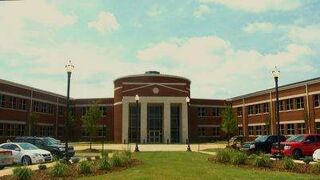 Welcome to Anderson Middle School, the most prestigious junior high school in all of California! Here, we are home to the best teachers, the best arts program for children, and the highest test scores for 6th-8th grade in the whole country! We dabble in a bit of all fields of education, so AMS is the
best
choice for your junior high student. Enroll today!
6th Graders
Edit
7th Graders
Edit
8th Graders
Edit
6th Grade English Cluster
6th Grade English Seminar
6th Grade History Cluster
6th Grade History Seminar
6th Grade Math
6th Grade Advanced Math
6th Grade Physical Education
6th Grade Science
7th Grade English Cluster
7th Grade English Seminar
7th Grade History Cluster
7th Grade History Seminar
7th Grade Math
7th Grade Advanced Math
7th Grade Physical Education
7th Grade Science
8th Grade English Cluster
8th Grade English Seminar
8th Grade History Cluster
8th Grade History Seminar
8th Grade Math
8th Grade Advanced Math
8th Grade Physical Education
8th Grade Science
Art
Music
Choir
Spanish 1-2
Spanish 3-4
French 1-2
French 3-4
Computers
Ad blocker interference detected!
Wikia is a free-to-use site that makes money from advertising. We have a modified experience for viewers using ad blockers

Wikia is not accessible if you've made further modifications. Remove the custom ad blocker rule(s) and the page will load as expected.